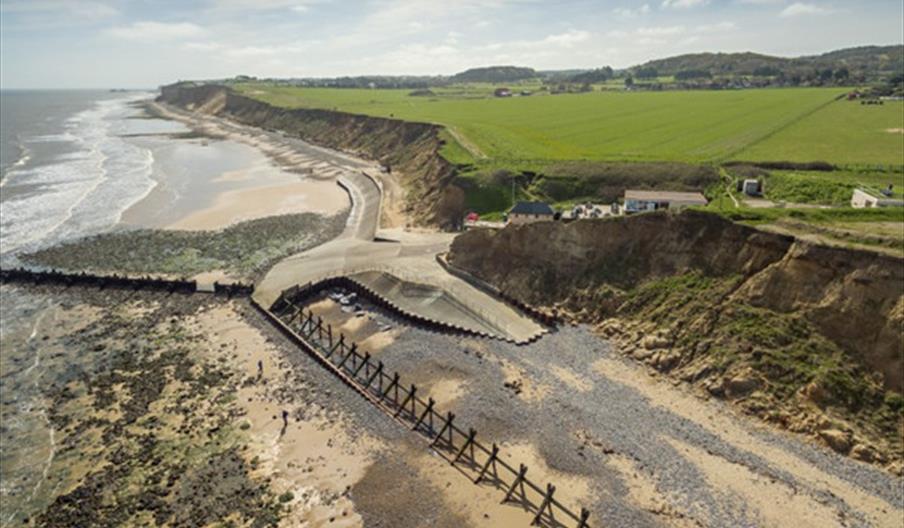 About
West Runton is a sand and shingle beach, with an expanse of sand and rock pools when the tide goes out. There are miles of footpaths and bridleways in the surrounding area. The cliffs offer an impressive backdrop to the beach and the site of the discovery of the West Runton Mammoth - the largest nearly-complete mammoth skeleton ever found in Britain, and the oldest found in the UK. A café is situated halfway down the gangway on the right hand side.

Beach Access Points
• The beach is accessed via a concrete slipway which is also used to launch some fishing boats. There is no vehicular access to the beach.

On the Beach
• The beach is made up of sand, shingle and cobbles and is quite mobile due to the action of tides, wind and currents.
• An important feature of the beach is its rock pools which form an important educational resource for visiting groups.
• There is a designated dog free zone area from May to September. This is clearly marked on the map which can be found on the Beach Information Board at the entrance to the beach.
• There are RNLI Lifeguards on the beach from May to September from 10.00-6.00
• First Aid is available from the Lifeguards when operating
• If you would like a BBQ party on the beach written permission from North Norfolk District Council is required. There is a disposable BBQ bin on the slipways at East and West Runton.
• The cliffs at West Runton are a Site of Special Scientific Interest because of their geological importance. It is illegal to dig onto these cliffs or remove anything directly from them without permission.
Facilities
Parking
Property Facilities
Map & Directions
Road Directions
Accessible by Public Transport: West Runton station is 0 miles away.