There's so much fun to be had in north Norfolk this summer! There's music events, outdoor theatre, carnivals and festivals. There are also lots of family-friendly attractions, walking and cycling routes, beaches and history and heritage waiting to be discovered. We've also got suggestions for totally free activities that don't cost a penny.
Enjoy 45 miles of unspoilt coastline! The north Norfolk coast has award-winning and Blue Flag stunning beaches, many within an Area of Outstanding Natural Beauty, great for building sandcastles, water sports, swimming and walking. Take your pick from the dramatic white sands at Wells-next-the-Sea and Holkham, traditional seaside resorts at Sheringham, Cromer, Mundesley and the fossil-reach sands at West Runton. Snorkel along the Cromer chalk reef; in the summer the water is clear offering great underwater sights. At Sheringham and Cromer you can hire a beach hut and also rent beach wheelchairs so everyone can enjoy the coast.

---
Cromer Pier Show (running 1 July to 30 September 2023). The famous Pavilion Theatre at the end of Cromer Pier is one of only five UK end of pier theatres and home to the award winning Cromer Pier Show - the only full season end of pier show in the world! Take the 151 metre walk along the pier to the theatre where you can look forward to a magical experience with a fusion of traditional and contemporary variety. Expect glitz and glamour, the finest production values, rib-tickling comedy, show-stopping vocals, mind-blowing specialty acts and an eclectic blend of dance!

---
Broads by boat. The unique Broads National Park is perfect for exploring by boat. The 125 miles of lock-free magical waterways offer a tranquil setting with spectacular scenery and wildlife. When you're ready to eat or stretch your land legs, moor up and take a walk or stop off for some local produce at the many pubs, restaurants and cafes.

---
Catch a crab! Going crabbing, or gillie-crabbing, is great fun. There's lots of ways to do it but you won't go wrong with our step by step guide, which includes the best bait to use as well as how to look after your crabs for the short while before you release them back into the water.

---
Fantastic festivals and carnivals. Summer is the time for north Norfolk festivals and carnivals (please check in advance the events are going head). There are events with music, food and children's entertainment, all celebrating the area's heritage. Holt Festival (20 to 29 July 2023) brings an exciting mix of emerging voices, live music, art, culture and so much more. This small-scale festival has a community feel that's rooted in the arts. Wells Carnival (28 to 6 August 2023) is hosting a fantastic range of events and activities for all the family. Take part in workshops, browse the food and craft fair, enjoy live music and cookery demos, go along to the teddy bear's picnic and of course the carnival parade. Sheringham Carnival is running from 30 July to 5 August 2023 with a packed programme of events includes live entertainment and a carnival parade on 2 August. Cromer Carnival is taking place 12 to 18 August 2023 with lots on including an air display from the Red Arrows on 16 August. The Worstead Festival returns on 29 and 30 July 2023 with a packed lineup of music, workshops, animal displays, crafts and much much more.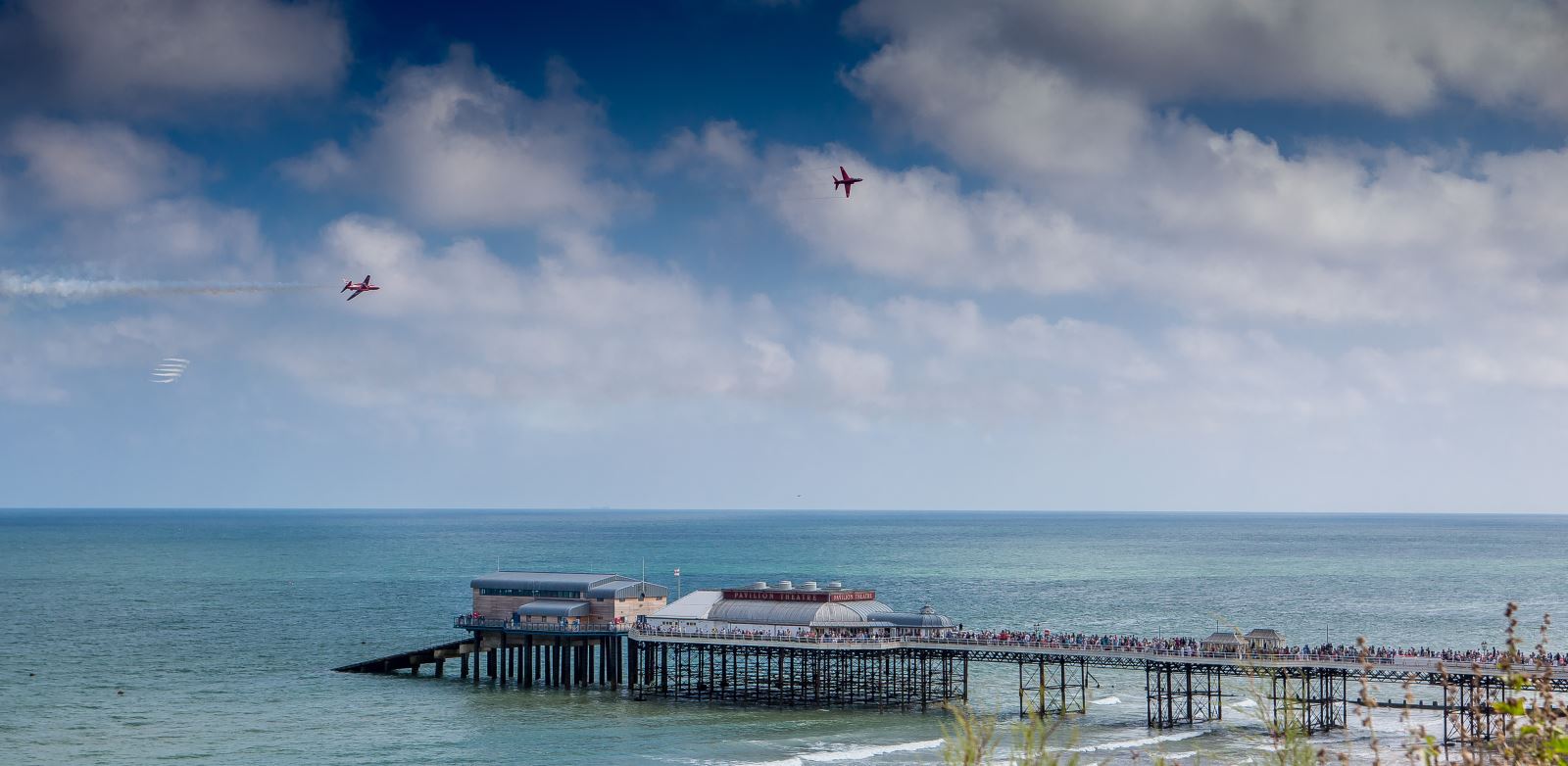 ---
Music festivals and outdoor theatre. There's a whole host of music festivals taking place over the summer. Rockstock: 22 July 2023, Bannaroo Festival: 5-6 August 2023, Reepham Festival: 12-13 August 2023, North Norfolk Music Festival: 11-18 August 2023.

For outdoor theatre, there is the following to look forward to. At Fairhaven you can enjoy Pantaloons Alice's Adventures in Wonderland on 29 July 2023 and Pantaloons The Comedy of Errors on 19 August 2023.
At Holkham there are lots of outdoor theatre shows on over the summer: Sense and Sensibility on 18 July 2023 | Alice Through the Looking Glass on 26 July 2023 | Robin Hood on 2 August 2023 | Bad Dad on 8 August 2023 | A Midsummer Night's Dream on 16 August 2023 | Romeo and Juliet on 23 August 2023 | The Wizard of Oz on 30 August 2023.

---
Amazing attractions. North Norfolk has some of the best visitor attractions in the country! For family fun, treehouses, jungle bridges, zip wires and outdoor adventure, head to award-winning BeWILDerwood in the Broads. Pensthorpe Natural Park in Fakenham, a multiple award-winning attraction lets you experience 700 acres of wildlife, gardens, adventure and indoor play and at Amazona Zoo, you can discover South American tropical animals in Cromer! Or for an adrenalin filled day out, head to Hilltop Outdoor Centre for high ropes, zip wires, climbing walls and the famous AIR JUMP!

---
Walking and cycling for everyone. There are plenty of walking and cycling routes for all abilities in north Norfolk and summer is spectacular for views with wild flowers, leafy trees and the famous Norfolk poppies. There are short and circular routes or if you're looking for a quieter pace and for those looking for more of a challenge there a long distance trails. Around north Norfolk, there are plenty of places to hire bikes as well as electric bikes if you fancy a bit of extra pedal power.

---
Historical homes and halls. North Norfolk's history is unique and intriguing. The wealth of landowners has left a legacy of stately homes and halls. Head to Holkham Hall to see one of the finest Palladian houses along with Houghton Hall & Gardens, the home of Britain's first Prime Minister. The National Trust's Blickling Hall, Anne Boleyn's birthplace and Felbrigg Hall are fascinating to explore and of course there's the Royal family's Sandringham which is a must see.

---
Take a step back in time for past adventures. North Norfolk has many museums and historic sites, open to visitors, explaining the area's fascinating and unique heritage. From shell displays to lifeboats, from military tanks to fossils, there's so much to explore. There are many historical sites, castles, priories and abbeys including Walsingham Abbey, Binham Abbey and Creake Abbey.

Also north Norfolk has its own version of the Jurassic Coast, the Deep History Coast. Discoveries along the coast line have revealed, the largest woolly mammoth skeleton, Neolithic flint axes and the oldest-known human footprints outside the Rift Valley in Africa! Beachcombing on West Runton beach, where the remains of a 600,000 year old mammoth were discovered, is great for finding fossils and rummaging in rock pools. Follow the Discovery Trail and use the free app to play games and bring the past back to life!
---
Wonderful wildlife. Birdwatching in the summer months, may mean you get a glimpse of Common Terns, Sandwich and Arctic Terns and also Little Terns. Many begin to arrive from West Africa in April and breed into the season. To lay their eggs, they make a small scrape in the shingle. Also in the summer, common seals have their young between June and September and you can take a boat trip from Morston Quay to Blakeney Point to see the seals in their own habitat.

---
Heritage railways. Hop aboard the North Norfolk Railway or the Poppy Line as it's also known, one of the UK's most scenic heritage railways, and take in amazing views of the north Norfolk coast and countryside. Easily accessible from the main rail network by taking Bittern Line to Sheringham to pick up the heritage railway, the service operates both steam and diesel, and runs between Sheringham and the Georgian market town of Holt. Or take a ride on the Wells & Walsingham Railway, the longest 10 1/4" narrow gauge steam railway in the world in an open or covered carriage while taking in the glorious scenery.

---
Have a whale of a time in the water! North Norfolk is the perfect place for watersports. Try canoeing and paddleboarding on the tranquil Broads, have a go at surfing on the gentle waves, or enjoy kite surfing on the shores of Hunstanton, Heacham and Brancaster. There's plenty of places to hire equipment and have lessons or for the more experienced, take advantage of the relatively quiet waters and mild climate.

---
A Taste of North Norfolk. With its long coastline and rich agricultural heritage, north Norfolk is awash with local food producers, independent delis and restaurants serving dishes created from locally sourced produce. Head to markets to pick up some local food and drink as well as freshly caught seafood. There are many fantastic pubs and eateries to enjoy freshly prepared food using north Norfolk ingredients as well as locally brewed beer and gin. Summer is the time to try the famous Cromer crab which gets its sweet taste from the Cromer chalk beds as well as samphire which grows wild and is only in season a short time over the summer. For a real taste of the sea side, pick up some fish and chips or grab and ice cream to cool down.

---
Shop local. There are many towns and markets selling a range of goods from antiques to souvenirs. Pick up a momento of your holiday or a unique piece of work created by an artist or artisan. Enjoy the independent shops each offering something different.

---
Free things to do this summer. There's plenty of free family fun to be enjoyed in north Norfolk during the summer holidays, without spending a penny. See our top five free things to do from star gazing, following the GoGo Discover mammoth trail, free museums and fossil hunting.

Related
0 Comments