North Norfolk is the perfect place to visit for a holiday in the summer. As Norfolk is the sunniest/driest county in the country, the days are long, bright and warm meaning there's plenty of time for family fun! With six Blue Flag beaches, wonderful wildlife, amazing attractions and excellent events, we've listed our top ten reasons to visit north Norfolk in the summer.

Beautiful award-winning beaches. With 45 miles of unspoiled coastline, family-friendly seaside resorts and six Blue Flag beaches, many of which are in an Area of Outstanding Natural Beauty, there are not many places that can rival north Norfolk's coast. For fun days building sandcastles, crabbing and swimming as well as offering sports like surfing and kite surfing, there is something for everyone. There is a huge choice of beaches from the quiet family friendly beach at Mundesley, to the tidal salt marshes at Blakeney and Scolt Head, and the vast white sands at Wells-next-the-Sea, Holkham (voted the best beach in the UK) and Brancaster. Try crabbing off Cromer Pier or surfing under its shadows in the calm seas or enjoy the clear waters at Sheringham with its pebble and sand beach.

Water adventures. With its long coastline, north Norfolk offers lots of fun on the water. Have a go at surfing on the gentle waves at Cromer, or enjoy kite surfing on the shores of Hunstanton, Heacham and Brancaster. There's plenty of places to hire equipment and have lessons or for the more experienced, take advantage of the relatively quiet waters and mild climate.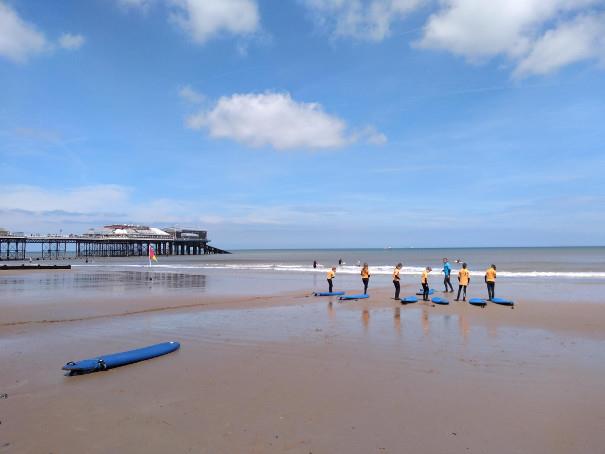 Discover the Deep History Coast. New for summer 2019, are activities you can enjoy along the Deep History Coast; north Norfolk's own version of the Jurassic Coast. Whether you visit for a day, weekend or a week or more, there is plenty to discover and enjoy as well as some fantastic family-friendly activities to keep all ages entertained. Walk a Discovery Trail along the Norfolk Coast Path from Weybourne to Cart Gap (Happisburgh), where each discovery point tells a different story through the Deep History Coast App; explorers can really get a feel for what early life was like.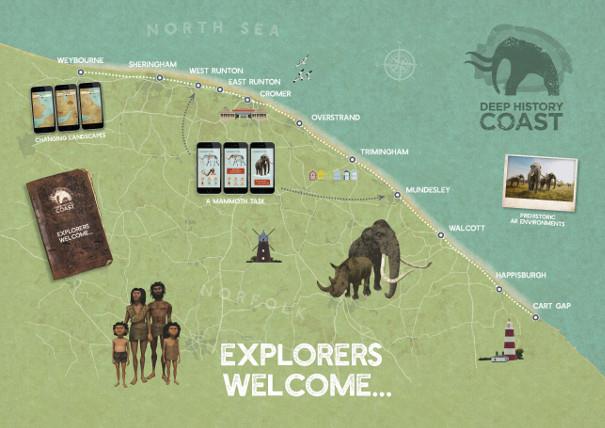 Amazing attractions. North Norfolk has some of the best visitor and award-winning attractions in the country! For family fun, treehouses, jungle bridges, zip wires and outdoor adventure, head to award-winning BeWILDerwood in the Broads. Pensthorpe Natural Park in Fakenham, a multiple award-winning attraction lets you experience 700 acres of wildlife, gardens, adventure and indoor play and at Amazona Zoo, you can discover South American tropical animals in Cromer! Or for an adrenalin filled day out, head to Hilltop Outdoor Centre for high ropes, zip wires, climbing walls and the famous AIR JUMP! Spend the day at Roarr! Dinosaur Adventure and cool off in Dippy's Splash Zone or fly through the air on the Predator! High Ropes.

Walking and cycling for everyone. The warm summer months offer a great time to get out on bike or foot and explore the beautiful north Norfolk coast and countryside. Whatever your ability, there are plenty of routes to choose from, taking you through some spectacular scenery including the famous Norfolk poppies or the Norfolk Coast Path.

Historical homes and halls. The doors to some of Britain's most prestigious stately homes and halls are thrown open to the public over the summer. Head to Holkham Hall to see one of the finest Palladian houses along with Houghton Hall & Gardens, the home of Britain's first Prime Minister and wonderful art exhibitions. The National Trust's Blickling Hall, Anne Boleyn's birthplace and Felbrigg Hall are fascinating to explore and of course there's the Royal family's Sandringham which is a must see.

Feast on fabulous seasonal food and drink. North Norfolk's coastline and rich agricultural heritage means there are plenty of local food producers, delis and eateries serving menus created from locally sourced ingredients. Summer is the time to try the famous Cromer crab which gets its sweet taste from the Cromer chalk beds as well as samphire which grows wild and is only in season a short time over the summer.

Seaside Resorts. You can find traditional seaside resorts dotted along the coastline with lots of things to do and see including eating some of the best fish and chips and ice cream. Sheringham is a charming seaside town with a Blue Flag beach, heritage steam railway, shops, places to eat and fantastic coastal and countryside walks. Just along the coast is Cromer, a favourite with families looking for a more traditional seaside holiday. With a sandy Blue Flag beach, museums, surfing, plenty of attractions and wonderful walking along the Norfolk Coast Path, Cromer is a great place for a summer holiday.
Around to the East is Mundesley, a pretty Victorian seaside village where families can enjoy a traditional holiday away from the hustle and bustle. Set in an Area of Outstanding Natural Beauty, Mundesley offers great coastal walks and is close to the Broads National Park. Or right around to the West is Hunstanton, an elegant Victorian resort with its famous striped cliffs and is one of the sunniest resorts in Norfolk enjoying dramatic sunsets.


See the seals. Blakeney is home to the largest seal colony in England and in the summer (between June and September), common seals have their pups. You can take a boat trip from Morston Quay to Blakeney Point to see the seals safely in their own habitat.

Festival fun. Summer in north Norfolk is full of festivals and carnivals. There are events with music, food and children's entertainment, all celebrating the area's heritage. Come to the carnivals in Holt, Cromer, Wells and Sheringham, and the World Pier Crabbing Championships take place in August in Cromer.
The lighter evenings mean there are lots of shows and outdoor live concerts for all interests and ages from the Cromer Pier variety shows (the only show in the world at the end of a Pier) to classical music to proms and even Classic Ibiza!
Related
0 Comments