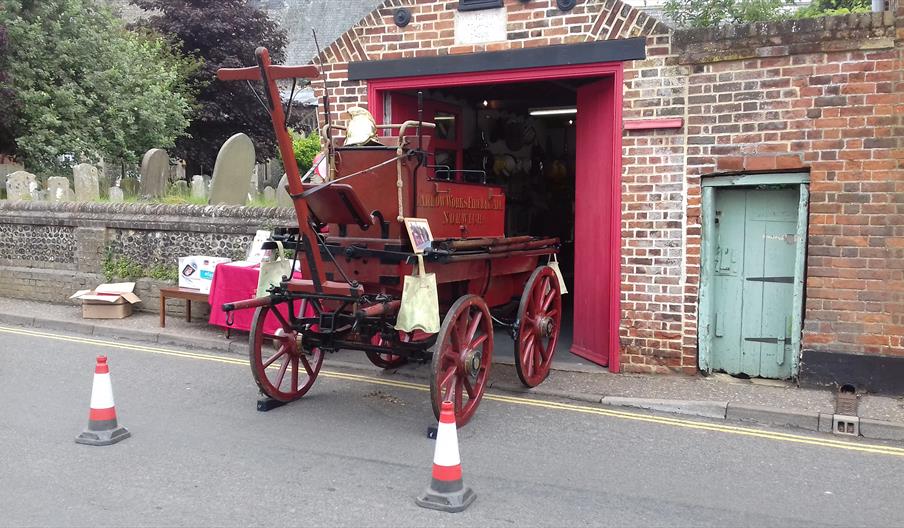 About
Stalham Firehouse Museum is one of the oldest in the country. It houses an 1881 horse drawn pump which is leased to us and a variety of artefacts.
We are tiny, but with a wealth of interest - we are not called Norfolk's Little Gem for nothing!
It offers a fascinating visit: take your photograph with a fire helmet, ring the fire bells and try the on-site quiz.
Stalham Firehouse Museum was built in the grounds of St Mary's Parish Church in 1833. It was built in response to concerns about property amid perceived inadequacies of the fire insurance companies. It housed a Tilley pump which gave them good service until 1902 when a horse-drawn pump (just like the one in the firehouse now) was acquired. In the 1920s the first motorised fire appliance came to Stalham but it was too big and the little firehouse was redundant. Where Newlands newsagents now stands became the new firehouse until the modern fire station was built in the 1960s and a modern fire engine installed. Then as now, they were all local volunteers, but unlike now the early volunteers were paid in beer tokens!
​There therefore been a continuous fire brigade in Stalham since 1833 and is one of the oldest in the country and the smallest and oldest in the network of fire museums in the UK. The little firehouse stood empty and neglected for many years, but was opened as an exhibit in 1983 to celebrate 150 years of the fire service. Eventually, it was restored in 2002, registered as a charitable trust and is a Grade 2 listed building. The current Trustees and volunteers have been maintaining it since 2011.
Check the opening hours here.
Map & Directions