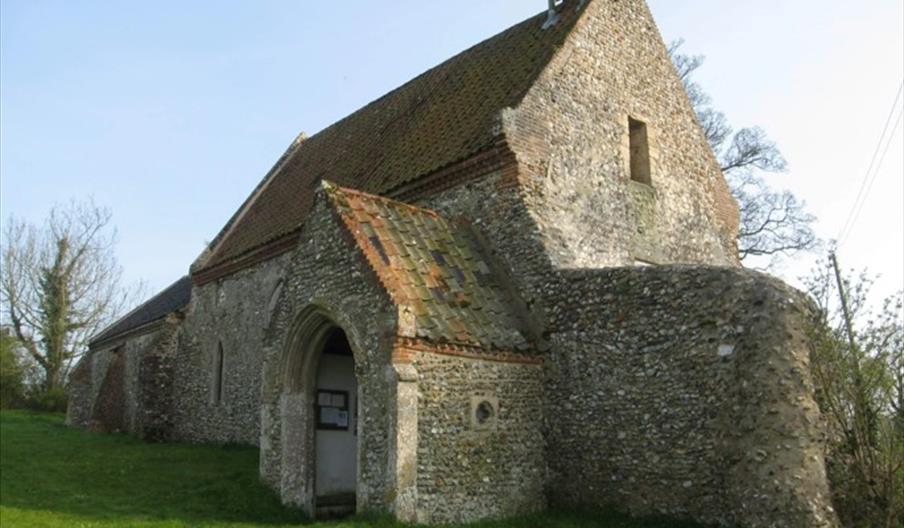 About
All Saints' is a Chapel of Ease in the Parish of South Creake with Waterden. The church's remoteness and peaceful charm has attracted some well-known people. The playwright Alan Bennett has written about it in his diaries and the cartoonist Osbert Lancaster drew a delightful line drawing of the church.

Waterden derives from "Waterdenna", the name of the village in the Domesday Book of 1086, meaning a "watery valley" in Anglo-Saxon. Domesday does not record that Waterden had a church then and the exact origins of the present building are unknown. Just as the origins of All Saints' are a mystery, so is much of its subsequent history. The evidence is patchy but it points to a building which has undergone many ups and downs. The rare and fascinating architectural hodgepodge that we see today is the result of perhaps 1,000 years of use, neglect and revival – all partly reflecting the fluctuating fortunes of the congregation. All Saints' fabric and the records suggest several major phases in the evolution of the church from early modern times.

A thorough restoration was carried out with the generous help of the National Lottery Heritage Fund, the Norfolk Churches Trust, the Garfield Weston Foundation, the Geoffrey Watling Charity and the Holkham Estate in 2018-19.

The church is active, always open to everyone, and loved by the community, visitors and pilgrims.
Facilities
Parking
Target Markets
Map & Directions