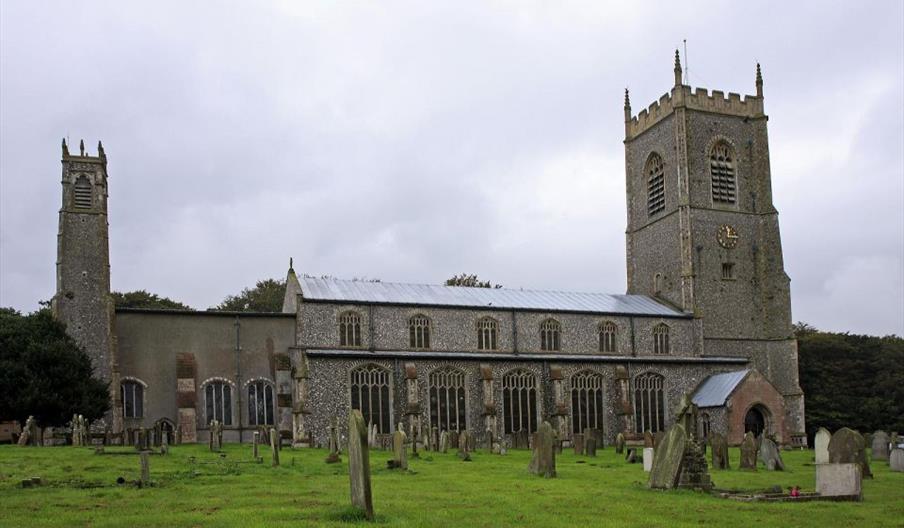 About
St Nicholas Church at Blakeney is fortunate enough to be in possession of two glorious towers. This not only marks the church out as unique in the local area, but can provide church visitors with unparalleled view of Blakeney's beautiful surroundings.
The church was completed between the 13th and 15th century and is uniquely the only church in the local area to possess a tower at each end of its building. Blakeney Church's renown has been nationally recognised, featuring in The Telegraph's 100 Favourite Churches as a visit to the church's serene plot is not quickly forgotten.
The Church is a wonderful place to worship, as its light interior creates a peaceful atmosphere for solitary prayer, services or commemorating a special occasion. Upon entering through the impressive doorway, you will be welcomed into the Church's chancel, which is illuminated by the chancel's east window, unusually structured with seven stepped lancets. The Church has many glorious stain glass windows, from15th century fragments in a North window, to a fantastic contemporary window created by local artist Jane Gray in 2002.
Blakeney Church harbours a rich history, and is an important place of worship for local people which is illustrated by various wall plaques commemorating the bravery of the Blakeney Lifeboats. The majestic building is one of the few Norfolk Church's to boast six bays to its grand nave, creating wonderful acoustics for church music and plenty of space. Should you wish to find out more, one of our volunteers can provide you with as much information you need.
The late Church historian Richard Butler-Stoney suggests that at the time of the church's construction, the entrance to the harbour would have been situated opposite Cley. He maintained that by lining up both towers in your field of vision, you would have been guide through the channel between the sand banks.
It is thought that the East Tower may have been created to house a single bell that would announce the consecration of elements in the Communion Service. It sits atop of the oldest part of the Church and is a testament to the "Early English Decorated" style of architecture. The West Tower is in-keeping with the 15th century history of the church's main body and stands proudly at a lofty 104 feet high as a prominent and familiar feature of Blakeney's landscape.
Map & Directions