Norfolk is often described at the birdwatching capital of Britain. With rare visiting birds and a wealth of nature reserves, north Norfolk is ideal for birdwatching all year round. But Winter is a particularly special time as many species of bird flock to Norfolk for its milder climate (they do come from very cold places) and abundance of food. They provide an amazing spectacle for bird lovers locally and visitors from all over the world. See our round up of what you might expect to see.

Ducks. Sunny Winter days are the best times to see drakes at their brightest and best, flaunting their finery in huge numbers. Cold spells may bring in rare species such as Smew and Goosander and along the coast, look for Scoter and Red-Breasted Mergansers. The bright colours on the drakes are to attract a mate, which they do with head bobbing, tail waggling and frenzied swimming. Check out Cley Marshes to see Wigeon, Tufties, Goldeneyes and Mallards.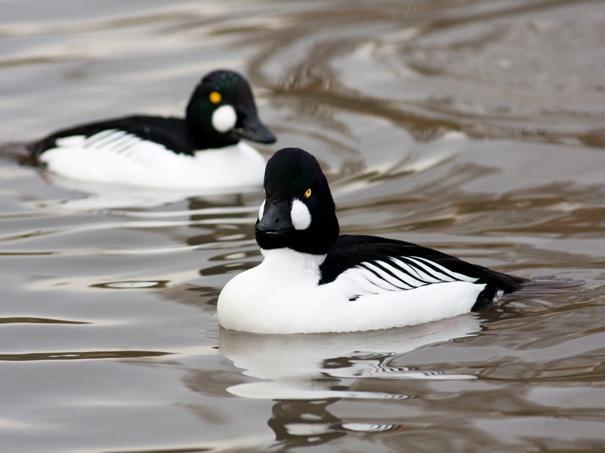 Bearded Tits. Reed beds are the place to see Bearded Tits and hear its chimes. These tiny birds hop through the damp litter at the brittle reeds' feet, foraging for reed seed. In Summer they feed on reed bed insects. If you hear a weird shriek emerging rhythmically, half a dozen times, from the reed bed, look out for a Water Rail, with its bright red beak.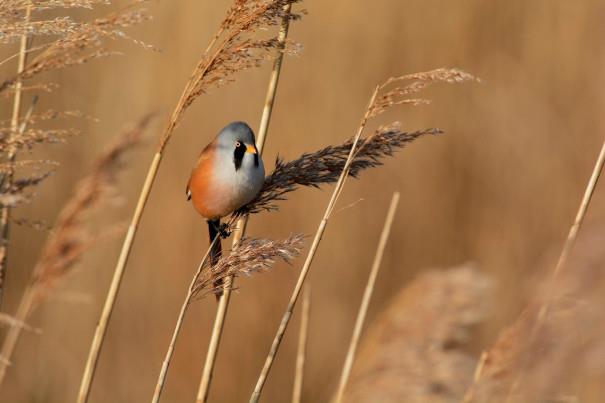 Geese. In Winter, north Norfolk is famous for the largest and most varied concentrations of geese in the country. One of the Winter spectacles is the skeins of Pink-Footed Geese in our huge skies. More than a third of the world's population of this species spend the winter in Norfolk with peak numbers present in January and February.
The geese arrive from their breeding grounds in Iceland and Greenland and they are very noisy at dawn and dusk when they are in flight between inland feeding areas on farmland and their coastal roosts. You can see them at Cley and Salthouse Marshes, Hickling Broad and Martham Broad nature reserves. Also look out for migratory Brent Geese on the saltmarshes as well as the resident greylag, Canada and Egyptian geese.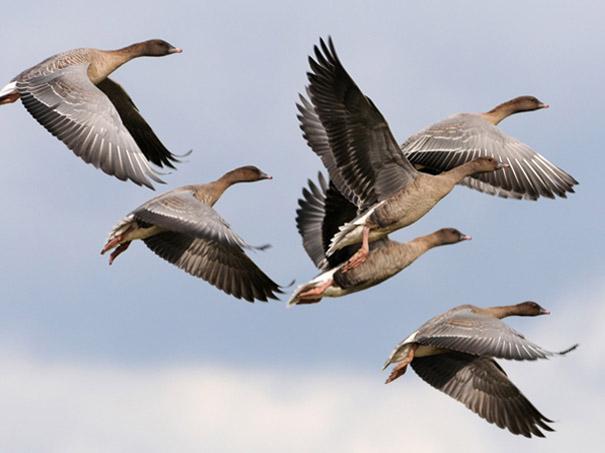 Snow Buntings. Snow Buntings are special! These small birds breed further north in the Arctic than any other small perching birds and bring a touch of Arctic wildness to Norfolk shores each winter. In flight they look mainly black and white with large white patches on their wings and tails, with dark wing tips. The shingle ridge at Cley and Salthouse Marshes is one of the top spots to see them and it's a real treat.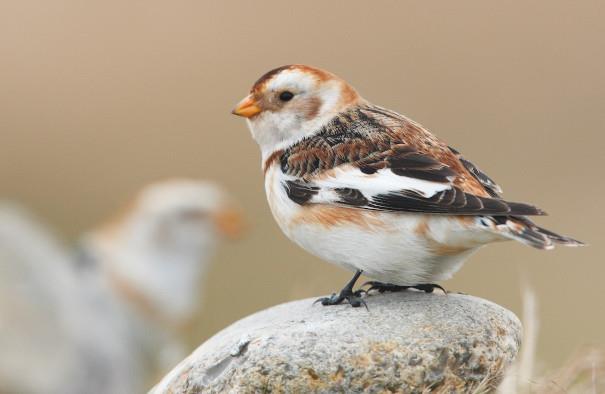 Bird Roosts. The coldest days of Winter are the best times to enjoy the spectacle of birds gathering to roost. At the Raptor roost site near Stubb Mill at Hickling Broad Nature Reserve, large numbers of Marsh Harriers (and smaller numbers of Hen Harriers) come together at sunset. You may also spot Common Cranes flying in, making their bugling calls, shortly after sunset. Also look out for Starling flocks (murmuration) which put on amazing aerial displays before roosting in reed beds, as well as Pied Wagtails roosting in trees. Don't miss the noisy spectacle of more than 10,000 Rooks and Crows which roost in the Yare Valley at Buckenham Marshes.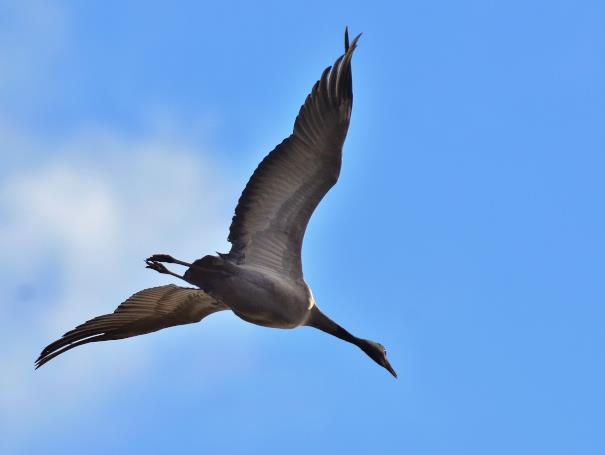 Winter Visitors. The Fieldfare and the Redwing, members of the Thrush family, arrive from Scandinavia and northern Europe in the Autumn, and spend the Winter here before returning home in early Spring to breed. The Redwing is smaller and is a dark russet brown, with a cream stripe above its eye anda distinctive red flank under its wing, hence the name.
The Fieldfare is much larger, more like our Mistle Thrush, but with a blue-grey head and rump, chestnut back and wings and a heavily speckled chest. It stands very upright, and moves with large hops. They are common to Norfolk and may go unnoticed, feeding in the hedgerows and fields. Their preferred food is grubs and worms, but will venture into gardens looking for fruit and berries if it is particularly cold and frozen. They are often seen in large flocks, sometimes both species mixed together.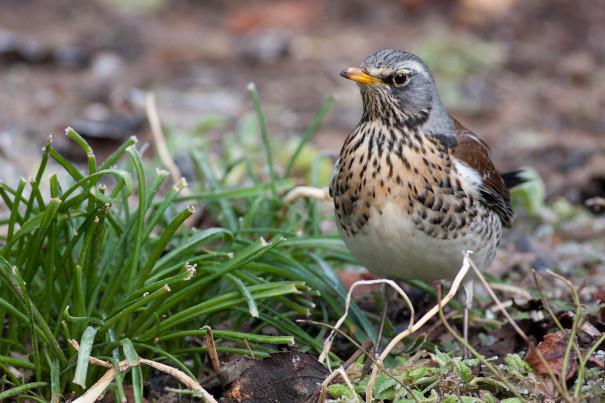 Related
0 Comments