North Norfolk's Deep History Coast is a fascinating stretch of coastline between Weybourne and Cart Gap, steeped in millions of years worth of history. There are plenty of things to do along the coast including following a Discovery Trail, fossil hunting, visiting museums and rock pooling. Take a look at our favourite top then things to do on the Deep History Coast and plan your journey back in time!
Visit the eleven Discovery Points.
Along the Deep History Coast Discovery Trail, which covers 36km of coastline from Weybourne to Cart Gap along the clifftops of the north Norfolk coast, there are eleven discovery points along the way. Walk it all or pick a section and find out what the area was like thousands of years ago at each Discovery Point.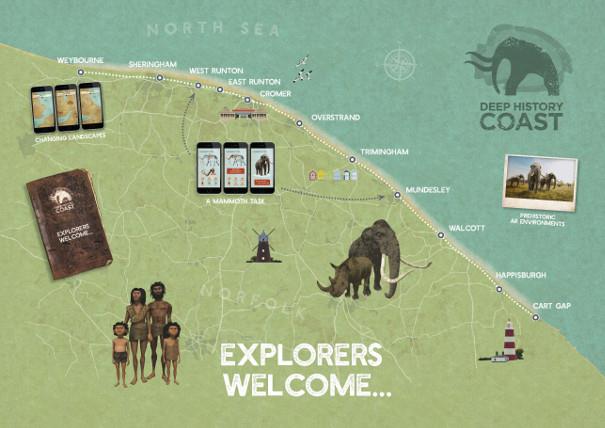 Let the app bring the past back to life.
To dig a bit deeper into history, download the Deep History Coast App to follow the guided walks and meet a Hominin family and the animals they shared their life with. The App, triggered by the Discovery Points will bring the past back to life and let you see what the landscape would have looked like. The App will also provide information about facilities at each spot, including where to go to find a bite to eat.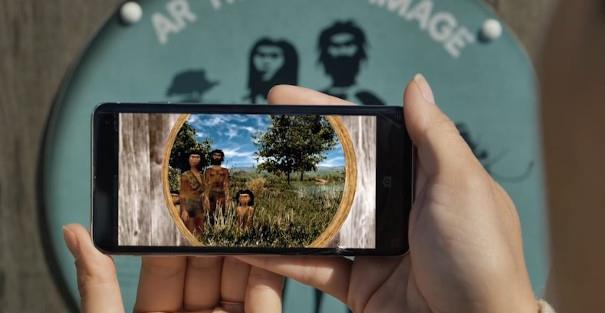 Play a game on the app.
Use the app to let a hominin family take you on a tour, see the West Runton Steppe mammoth in its environment, play games and collect items for your virtual journal - all at the touch of a button! Young explorers will be able to take part in the mammoth puzzle game, where they have to recreate a mammoth skeleton. The Deep History Coast App (Android and iOS) can be downloaded free of charge from Googleplay or the Apple store.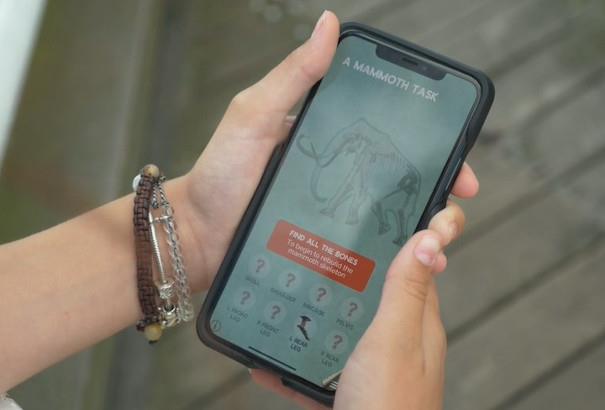 Go fossil hunting and identify your finds.
Fossil hunting is an exciting activity as you may well find your own piece of history dating back millions of years! There are many different types of fossils you can come across along the Deep History Coast, each telling a different story about the creatures that lived here. If you find a fossil, use the Deep History Coast App to identify it, or see our identifier here. You can also take any finds to the Cromer Museum who will tell you more about its origins. Or use the Fossil and Flint Finder on the Deep History Coast App for advice and information.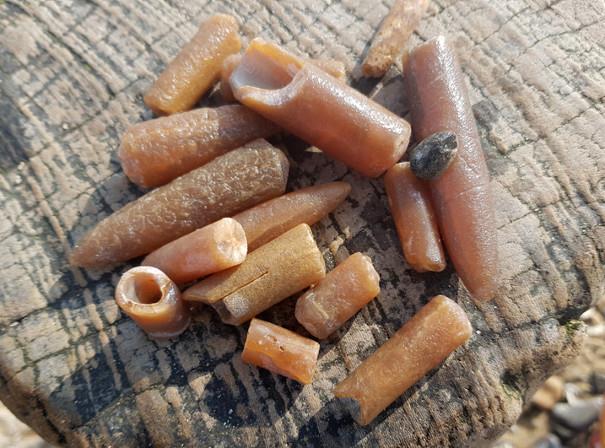 Check out the rock pools.
Rock pooling is great fun and fascinating. At low tide, rock pools are revealed. Your finds may well be different depending on which beach you visit. At West Runton you may come across inhabitants including, shore crabs, long-spined sea-scorpions, starfish, beadlet anemones and common hermit crabs. At Cromer and Sheringham, you may see serrated wrack, velvet swimming crabs, edible winkle and long-spined sea-scorpions as well as fossilised coral, brachiopods and echinoids.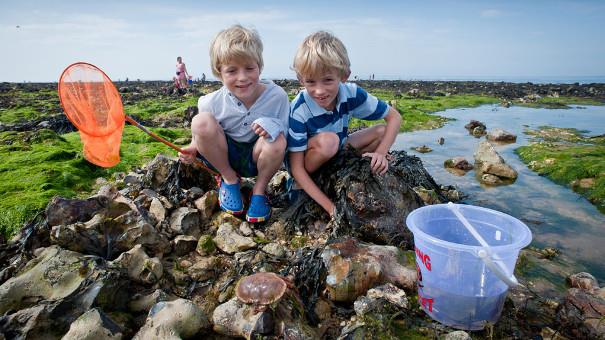 Snorkel the Cromer Shoals Chalk Bed.
Just offshore, between Sheringham and Cromer, is the largest chalk reef in Europe and the longest in the world. At more than 20 miles long, it lies in the shallows, just 25ft from the surface and is part of a chalk stream that reaches as far as the white cliffs of Dover and the White Horse Hill Carvings in Wiltshire!
Formed during the Ice Age, the reef, now a Marine Conservation Zone, was created by a vast number of compressed pre-historic fossilised plankton. It is an ideal breeding and feeding ground for the famous Sheringham lobster and Cromer crab, and helps to give them a unique sweet taste.
You can see the reef by swimming out (follow safe swimming guidelines) and snorkelling to just below the surface where you may spot shoals of bib cruising over the seaweed gardens, tompot blennies peering from their holes and grazing nudibranchs.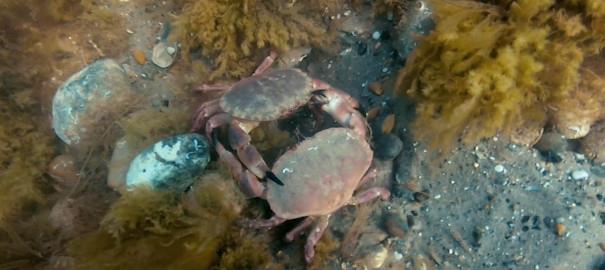 See the Hominin murals at Sheringham.
Sheringham's Deep History Coast Discovery Point takes visitors and residents way back in history to the days when Hominins inhabited the area, living alongside mammoths, rhinos and hyenas; this is colourfully depicted in a mural on the water tank building on the promenade by The Sheringham Museum, also known as The Mo. Well worth a visit.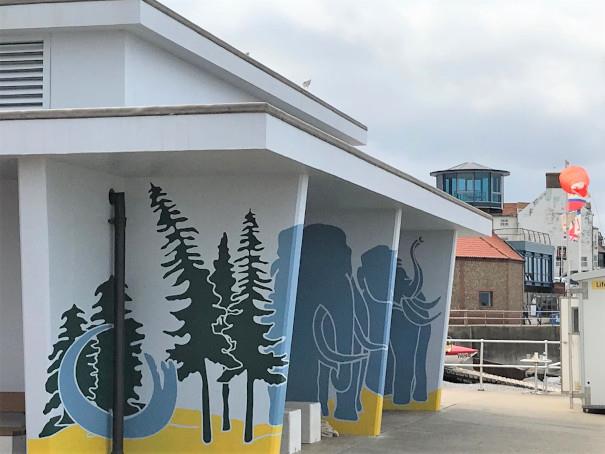 Visit a Deep History Coast Experience Maker.
Deep History Coast Experience Makers are representatives from businesses across north Norfolk flying the flag for the Deep History Coast. They provide an information service for visitors advising on what activities can be enjoyed along the Deep History Coast. So if you want to get the local low-down about the area's deep history, pop and see an Experience Maker.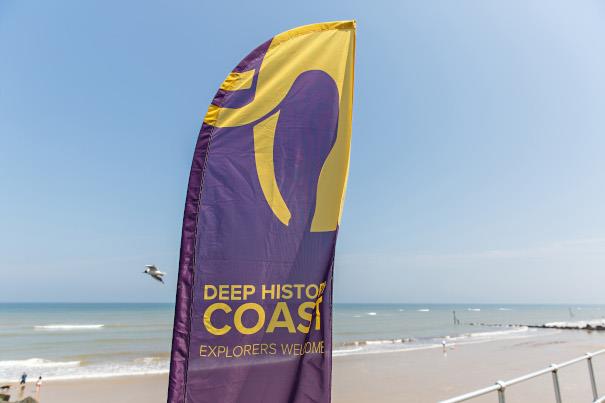 Visit museums and the Discovery Zone at the Visitor Centre.
Want to find out more about fossils? Cromer Museum's Geology Gallery has an amazing fossil collection and they were all found in Norfolk. There's also more about the famous West Runton mammoth, plus a cast of the skull of a Mosasaur, a huge marine reptile common in the seas that covered Norfolk over 80 million years ago.
The North Norfolk Information Centre in Cromer is home to the Deep History Coast discovery zone. Visitors can enjoy an immersive digital experience by exploring the Deep History Coast through a series of films and displays about early man, Norfolk's geology, the unusual creatures that roamed here and clues to what Doggerland looked and felt like. The film tells people about the Deep History Coast and a 3D display lets visitors get hands on with coastal facts.
PLEASE CHECK OPENING DAYS AND TIMES BEFORE VISITING.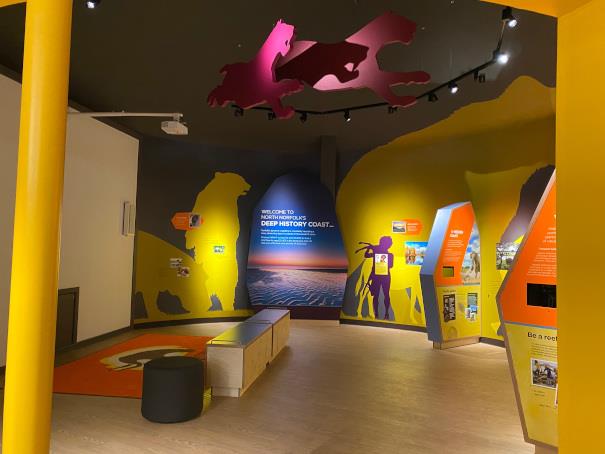 Related
0 Comments