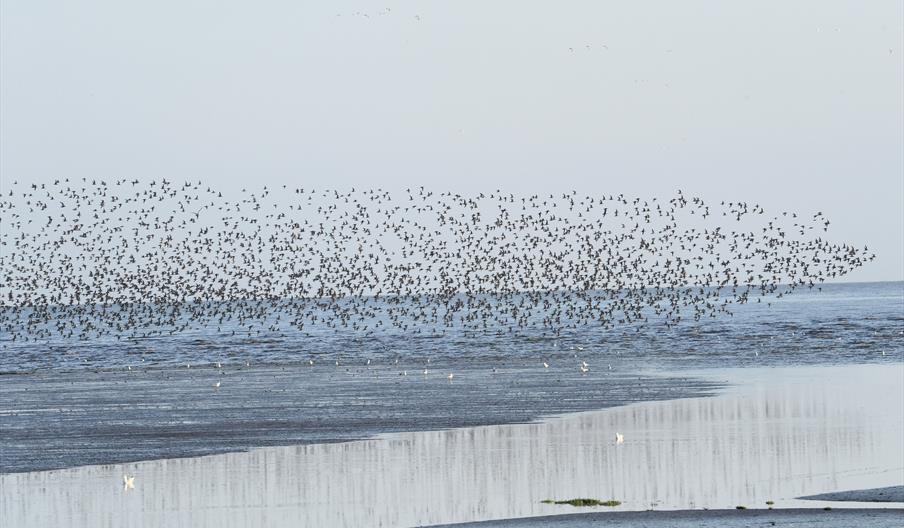 About
This four day nature connection retreat begins with a sunrise spectacular of sight and sound. One of the top wildlife experiences in the uk!
The fast encroaching tide chases armies of waders into the dry corners of The Wash, but only the very highest tides concentrate the waders so deeply that an extra push from a south-westerly, or opportunistic raptor suddenly puts all the birds up. Over the flooded feeding grounds shape-shifting murmurations treat spectators to a rollercoaster of twist and turn thrills. In October, an estimated 150,000 of knot alone flash silver- black as they change direction, accompanied by a tsunami of shimmering sound as the spectacle swirls just meters overhead, then drops into the shingle beds of the reserve behind you….
Over the following days you'll connect to North Norfolk will all your senses, led by your bird and wellness guide, Sarah. You'll absorb spacious, wild, mentally refreshing vistas of salt marsh, sand dune, reed-bed, beach and forest.
North Norfolk is a treasure chest for birds. There are waders galore - including godwits, redshank, egrets, oystercatchers, avocets, and fields full of curlew, lapwing, marsh harrier, red kite, kestrel, and of course those giant geese skeins typical of October skies - a spectacular in itself! Sunrise and sunset trips bring the opportunity to see special birds like bittern, bearded tit and barn owl. The autumn migration could even bring a surprise rarity, like short-eared owl, snow bunting, or wryneck.
Our foraging adventure parallels shorebird life as we seek razor clams, then link hedgerow berries to our barn owls and kestrels. Connecting more to food through foraging is humbling, and evokes feelings of gratitude towards Nature. That's why our hearty meals incorporate foraged ingredients, as well as local produce that optimise health.
Daily sun salutations, and yogic breathing techniques will soothe your muscles, joints and mind. You'll re-set, leave energised, but relaxed with new skills to build a mental and physical health practise through nature connection.
Most meals are provided, leaving opportunity to support local industry.
Map & Directions