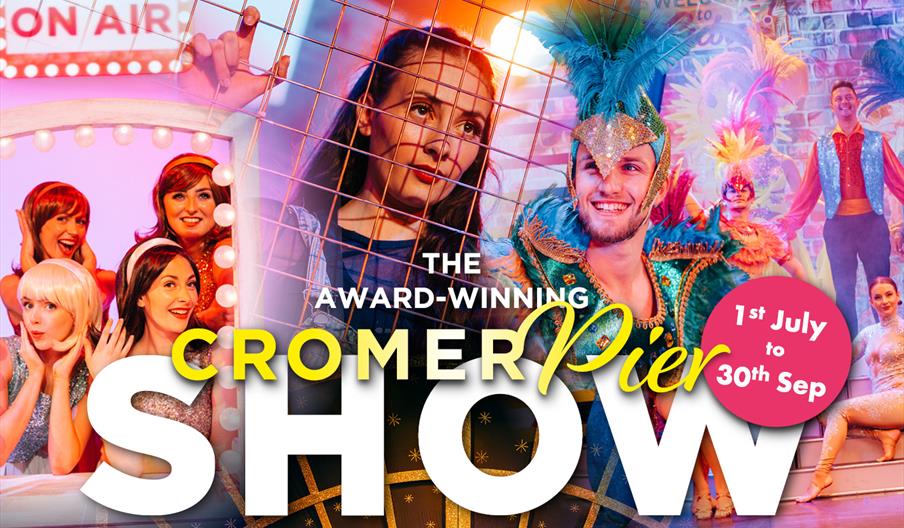 About
The celebrated and award-winning Cromer Pier Show is back with a rip-roaring show for 2023. The production team is working hard behind the scenes to create an eclectic blend of the finest variety of entertainment on the planet in one enthralling theatre show.
Expect all the usual West End production values, including our jaw-dropping 8-meter video wall, delivering impressive special effects alongside our unique and traditional scene sets, creating a visual sensation.
MEET THE CAST OF 2023's CROMER PIER SHOW
UK Comedian Phil Reid – Cromer Pier show host Summer 2023Those of you that are eagle-eyed, may remember Phil from last summer when he joined the cast as a guest act and went down a storm with our audiences. A fresh, young, and talented, comedian, he can be seen performing his show at comedy clubs the length and breadth of the UK and worldwide. He has toured alongside Jason Manford, John Bishop, Tim Vine, and Lee Nelson to name just a few.


Singer Ferdinand de-Leon – Ferdinand wowed our audiences last year in 2022 with his versatile and quality vocal range. A Los Angeles native, he has performed all over the world, co-directed, and lectured in Singapore.
Singer Jessica Poole – Ferdinand is partnered with Jessica Poole, Jessica trained at the Arden School of Theatre and has had an illustrious career performing onboard luxury cruise ships, at Disneyland Paris, Sweeney Entertainments production of Abba Forever, and at the Thursford Christmas Spectacular in 2022.
Variety Act Duo Distanza & Jenna Knight – Jenna and Francisco have been performing since they met in 2013 and have been inseparable since perfecting a variety of breathtaking and dangerous aerial and ground acts including their hugely impressive duo aerial straps. Francisco Arango, from Columbia, trained at Circo Para Todos, graduated as a professional juggler and performed as a part of a Russian swing troupe. He has since travelled the world on board luxury cruise ships and worked on Top Gear Live as a rigger and rigger designer. Jenna Knight from the Wirral trained at SLP Leed as a dancer and has performed all over the world on board luxury cruise ships both as a dancer and with Francisco. Jenna has trained over the past five years to transition from dancer to circus and aerial artist.
MEET THE GUEST ACT'S OF 2023's CROMER PIER SHOW
We have four inventive and original guest acts lined up for you to join the cast during the 2023 season including:

GUEST ACT 1: Saturday 1st July to Saturday 22nd July – Kev Orkian

A super talented comedian, entertainer, and musician. Kev's rich and illustrious career has seen him perform all over the world, and a little nearer to us at the Thursford Christmas Spectacular this Christmas.

GUEST ACT 2: Tuesday 25th July to Saturday 2nd September – Jon Udry
This Comedian and Juggler combines his two skills to brilliant effect, his repertoire is young, offbeat, quirky, and hugely impressive.
GUEST ACT 3: Tuesday 5th September to Saturday 16th September – Mark Shortland
A Comedy Magician who performs an interactive, high-energy show that will keep you on the edge of your seat, he creates impossible pieces of magic that your eyes will struggle to believe. He is also the master of getting the best from his audiences who often become the stars of the show themselves.
GUEST ACT 4: Tuesday 19th September to Saturday 30th September – Ben Nickless

To close the season, Ben is a theatre favourite and our Cromer Pier 2022 show host. Ben will return with his trademark uncanny impressions and hilarious laugh-out-loud comedy.
Map & Directions