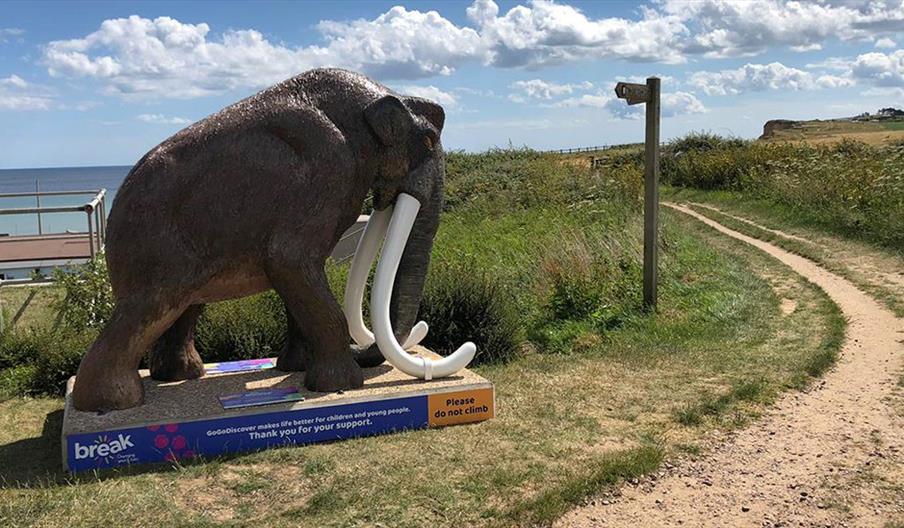 About
GoGoDiscover features 79 individually designed sculptures comprising 55 T.rex and 24 Steppe Mammoths, each decorated by artists from across the country.
Following the 1990 discovery in West Runton of the most complete skeleton of a Steppe mammoth ever found in the Britain, North Norfolk's Deep History Coast will be celebrated with a mammoth scuplture trail.
Up to 10 September 2022, a humongous herd of 24 Steppe Mammoths, which will appear around Norfolk (eight in north Norfolk) in towns and popular hotspots: Cart Gap - Deep History Coast Discovery Point | West Runton - Deep History Coast Discovery Point | Holt Country Park | Holkham Estate - outside the Walled Garden entrance | Holt Town Centre - High Street | Granary Staithe, Hoveton - NR12 8DA | Cromer Pier | Pensthorpe Natural Park - main courtyard.
North Norfolk District Council is a supporting partner for the countywide trail and has sponsored two Steppe Mammoths – Margaret's Mammoth located in West Runton and Lumi located in Cart Gap. Margaret's Mammoth was created by Phil Daniels, who also created the Steppe Mammoth located in Pensthorpe Natural Park.
This mammoth was named after Margaret Hems, who discovered the first bone, of what would turn out to be the most complete Steppe Mammoth skeleton found in Britain, in West Runton in 1990.
Lumi was created by wildlife artist and illustrator Jina Gelder, who tries to make people smile through her paintings and loves to capture personality in her work.
Lumi features an artic seascape with mammoths to raise awareness of climate change and how rising temperatures are causing the ice caps to melt. Lumi also translates to snow in Finnish. To take part in the GoGoDiscover Trail you can download the app onto your phone (£1.99) from the Apple App Store or Google Play Store or download a trail map here.
TripAdvisor