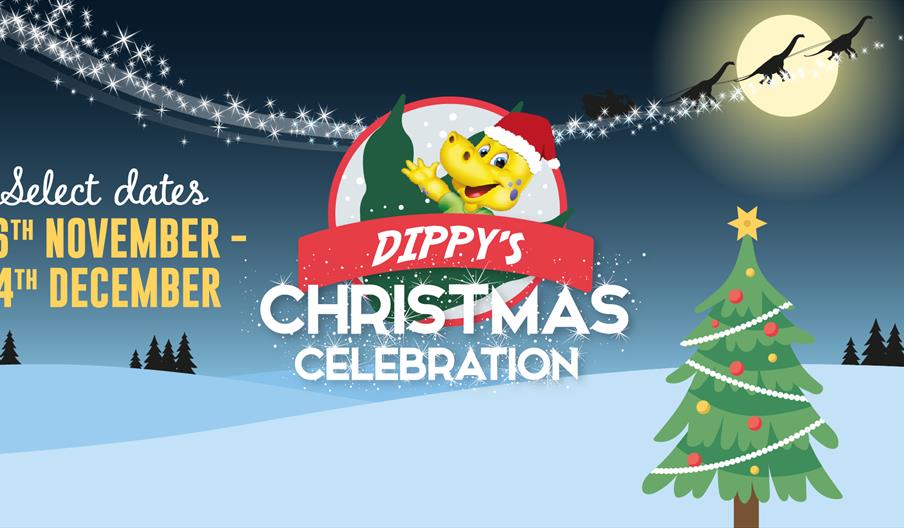 About
Father Christmas has teamed up with Dippy to spread some Christmas sparkle to the Park. Join us in Dippy's Theatre for a Christmas movie and Dippy and Friends Christmas Show, all of our usual attractions and a visit to our festive present room.
Jingle all the Day – Available on selected dates in November and December. Visit Father Christmas and his elves at the North Pole and step inside the Christmas Cottage. Choose your favourite toy from under the tree and then delve into a delicious hot chocolate, before finishing with a photograph beside the big man himself!
Sparkle in the Dark – Available on selected evening dates in November and December when the rest of the Park has closed. Purchase separate to a Park ticket. Start your journey at the festive forest. Head towards the North Pole to meet Mother Christmas at her Gingerbread kitchen, then travel through the magical lights towards Christmas Cottage. Inside, the elves will be busy working, but don't forget to collect your sweet treat. You'll then pay Father Christmas a visit to collect your golden ticket, which can be swapped for a toy of your choice within the toy shop. Finish with a delicious hot chocolate for the whole family.
At the end of the evening, enjoy a short Christmas movie in Dippy's Theatre and some delicious food and drink from street vendors