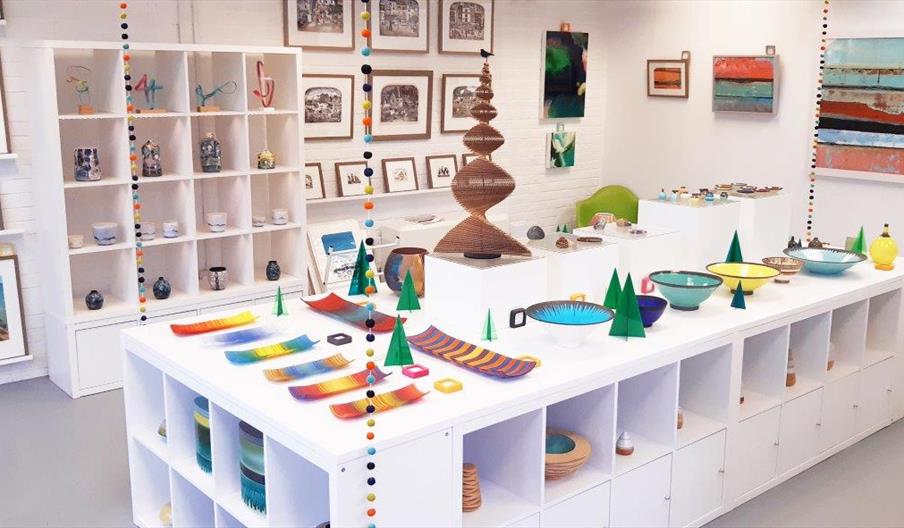 About
Gallery Plus is jam-packed with colour and gift inspiration from the moment you walk in!
On the walls, we have paintings by Simon Wright, Amelia Mills, and Paul Evans (right), plus linocuts by HJ Jackson and etchings by Graham Clarke (above) and Anja Percival - there's plenty to keep all tastes satisfied!
Gallery Plus specialises in glass and ceramics, all with an impact of colour, contemporary design and quality of finish.
We're showing the work of several ceramicists including Eleanor Caie, Tony Laverick, Anne-Marie Jacobs, Richard Baxter, Sylvia K, and Dawn Hajittofi.
Glass-makers include Helena Ross, AnuschB, Marina e Susanna Sent, Roberta Mason, and Weston Lambert, and we have a collection of amazing new colourful sulptures by Ralph Shuttleworth (right).
There is also a permanent display of original paintings by resident artist, Trevor Woods (above). His work concentrates on North Norfolk, alongside places he's visited such as Scotland, Iceland, and Venice, Tuscany, Lanzarote, and Amsterdam.
We also stock a stunning range of Murano glass jewellery - drop us a line if you'd like to see photos, or pop in and see them 'in the flesh'.
We love colour; it's good for the soul!
Open Tuesday-Saturday 10am-4pm
Map & Directions